Mira Pro Software
Mira Pro provides research caliber image calibration, data reduction, visualization, and measurement tools in a highly integrated, easy to use environment.
Application areas: astronomy, space sciences, education.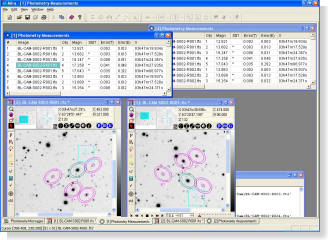 Mira Pro comparing simultaneous photometry with different parameters.
Introducing Mira Pro
Superior software is no accident. It requires understanding the problems and solutions and assembling a team of specialists and world-class developers to implement those solutions. At Mirametrics, that's exactly who we are. Mira Pro™ provides the professional researcher or educator class-leading tools to do it easier, faster, and better. Mira Pro includes an extensive collection of richly integrated, easy to use tools for image visualization, precision measurement, and data reduction. On the other hand... if you need even more tools plus scripting capability, see Mira Pro Ultimate Edition.
Especially if you have been slogging through image calibration using typical "CCD PROC" type tasks in other software packages, you will find Mira Pro a refreshing solution to an old problem. Image Calibration in Mira Pro is easier to configure, offers more options, and works faster than in other software. And what about 1-click calibration of a folder full of raw 4k x 4k images? No problem!
One year of maintenance is included; after one year, discounted annual maintenance is available to provide tech support and keep your software current.
NOTE: Mira Pro runs on 32-bit Windows XP and Vista. For Windows Vista-64 or Windows 7 or 8 (32 or 64) see Mira Pro Ultimate Edition.
Applications
Mira Pro makes it easy to make research quality photometric measurements of any number of stars with any number of standards on any number of images. Doing ensemble photometry, plotting light curves, importing objects from target lists, and reporting results are a snap!
Use Mira Pro as a powerful, general-use tool for astronomical research, including areas like variable star research, exoplanet search, millimag level photometry, supernova patrol, minor planet detection and rotation, and data mining.
Provides powerful tools for astronomical data reduction and visualization.
Mira Pro is also great for analyzing 2-D and 3-D numerical models and simulations.
Excellent for synoptic studies involving measurement or analysis of photometry, coordinates, distances, angles, brightness, and other parameters.
Key Features
Mira's outstanding GUI puts advanced tools where you expect them, freeing you to think about science, not using software.
Utilize Mira's superior visualization and analysis tools to get more from image data and numerical simulations.
Realize complex data reduction strategies using simplified, intuitive commands and procedures.
Measure science-grade coordinates, distance, angles, FWHM, statistics, magnitudes, and more, in image units and FITS World Coordinates.
Work with FITS and other standard image formats using 8 to 64 bit data and 24 bit color.
Hot Topics
Note to IRAF users: Why Mira ?
Quantitative image calibration
Custom processing using scripts (Mira Pro UE)
Automated extraction of sources & properties (Mira Pro UE)
Detecting the 0.003 mag eclipse of an Exoplanet
Recent Research
Requirements
Windows operating system or equivalent including Windows Vista (32-bit only), XP, Server 2003, or 100% compatible Windows environment on Linux or Mac.
For Windows 7 or 8 (32-bit or 64-bit) or 64-bit Windows Vista, Mira Pro Ultimate Edition is required.
Hard Drive Space: 100 MB.
Minimum Platform: Windows® XP SP3, 2GB memory.