Cursor Preferences
---
The Cursor Preferences page is a member of the Mira Preferences dialog. Use this page to configure the Image Cursor in an Image Window. You can also adjust the cursor interactively after an Image Window is opened. If opening this dialog directly from an Image Window via the Image Context Menu, the settings may be applied to that window only. They may also be used as defaults for all future Image Windows.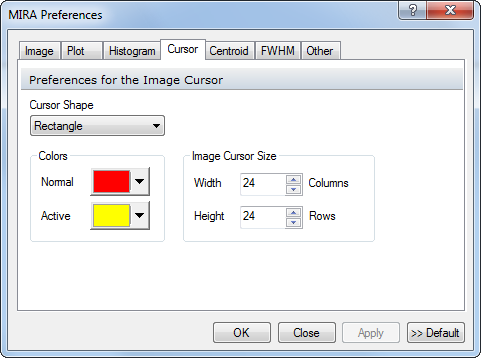 | | |
| --- | --- |
| Cursor Shape | Defines the shape used to draw the cursor. Regardless of the shape, its coordinate is measured at the center of the shape. The options are Rectangle, Crosshair, Lines (full image), and Hidden. |
| Colors | Defines the color used to draw the Normal cursor (not moving) and the Active Cursor (when moving). |
| Image Cursor Size | Species the default width and height of the image cursor, measured in image pixels. These values apply as the default for new Image Windows. The values can be changed using Cursor Mode after Image Window is opened. |
Save your changes
Set the preferences as desired, then accept the changes by doing the following:
If this page was opened directly from an Image Window, you can change only the settings in that Image window. To do this, click [Apply] or [OK].
When you are finished, close the Mira Preferences dialog.
Related Topics
Image Cursor, Image Windows, Mira Preferences dialog