Change Label Text Dialog
---
The Change Label Text dialog is part of the Labeling Images procedure. This dialog opens to collect text for the label in response to clicking the mouse on an image. This label shows the existing label if one exists and uses that as a default that you may wish to change. You can also set the text justification to Left, Center, or Right..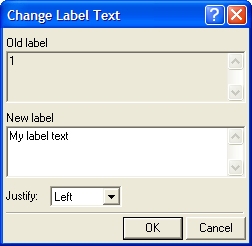 There are two modes which open the Change Label Text Dialog opens:
In Label Marking Mode the default text is a sequential number for the new label.

In Label Change Mode the default text is taken from the label where the mouse was clicked.

When you exit the dialog,

Click [OK] to save your text changes.

Click [Cancel] to abort the text changes. If a new label was being added, the label marker is also aborted.
Related Topics