Overlay Preferences (Images)
---
The Overlay Preferences dialog configures the printing of graphics overlays such as markers and annotations . An overlay grid can be added to the printout and the markers can be altered to make them more visible.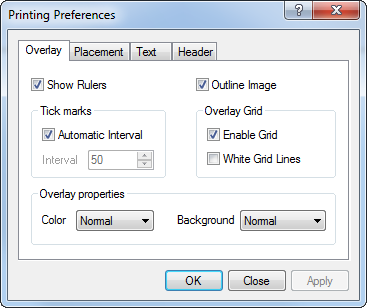 The Color and Background preferences can be used to set the foreground and background of overlay markers and text to white or black. This can increase their visibility in prints made using a monochrome printer such as a laser printer.
The Show Rulers option draws rulers along the edge of the image using the specified Tick Mark settings.
The Overlay Grid parameters draw a grid using the Tick Marks settings.
Related Topics