Plotting in World Coordinates
---
Plots can be created with their positional axis in Pixel Coordinates or World Coordinates. The selection is made using the World Coordinates Option, which can be changed from a number of places in Mira.
---
From the Plot Menu when an Image Window is active, click Plot > Coordinate Mode > World as show below: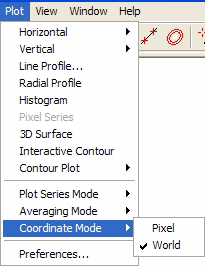 This command is also duplicated in the Plot Context Menu.
---
From the Plot Preferences page:, select World Coordinate from the list box.

Related Topics