Interactive Contour Preferences
---
The Interactive Contour Preferences dialog has options for controlling the computation and presentation of the Interactively drawn contour.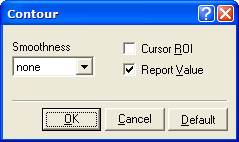 | | |
| --- | --- |
| Smoothness | Noise in an image can cause contours to be computed for spurious pixels, causing a jumble of contour fragments. This selection controls the sensitivity to noise. A higher smoothness is usually desirable with noisy images. |
| Cursor ROI | If checked, contouring occurs inside the rectangular region defined by the image cursor. |
| Report Value | If checked, the marked value of the contour is listed in a Text Editor window. |
To save you changes to the current Image Window, click [OK].

To save the settings as default values for future Image Windows, click [Default].
Related Topics