Rotation Toolbar
---
The Rotation Toolbar is used to rotate the 3-D surface inside a 3-D Plot Window. The toolbar provides both controlled rotation and manual rotation. Controlled rotation is available only for the azimuth direction. Tilt may be applied while controlled rotation is active or as part of the free-hand "rotation mode"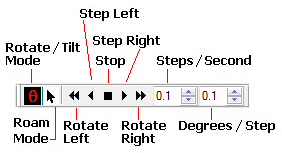 Manual Plot Rotation
As for most view windows in Mira , there exists a "Roam" mode in which you can roam the mouse pointer around the window and mouse clicks inside the window have no function. In addition, there exists a Rotation Mode in which mouse clicks inside the window activate free-hand plot rotation.
Click the (Rotation Mode) button on the toolbar to enter Rotation Mode (or open the 3-D Plot Context Menu and select Mode > Rotate).

Move the mouse pointer inside the window, then press and hold down the mouse button.

Move the mouse with the button down to change the plot rotation or tilt. NOTE: If controlled rotation is active, only the tilt is enabled.

If you wish to exit rotation mode, click the (Roam) button to enter Roam Mode.
| | |
| --- | --- |
| Tip | You can change the rotational speed and angular step during animation using the up/down arrows on the toolbar. However, if you type values into these fields while animation is running, they will not take effect until the next time you start animation. |
Related Topics