Image Set Toolbar
---
The Image Set Toolbar provides button commands for working with the Image Set in an Image Window. Using the toolbar, you can add images, delete images, swap their order, or view their properties. The toolbar opens attached to the left border of the Image Window. To select the target image, use the Image Animation Toolbar.
This toolbar is toggled between show and hide using nthese 3 methods: the button on the main toolbar, the Edit > Image Set Toolbar command, or the Ctrl+Q keyboard accelerator.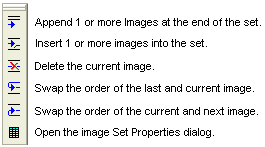 Tips for using the Image Set Toolbar
Since each Image Window contains a different Image Set, each window has its own, independent Image Set Toolbar.

If only 1 image is shown in the image window, buttons that do not pertain to 1 image, such as delete and swap, are disabled.

These command duplicate those in the Image Set submenu in the Image Context Menu.
Related Topics