Report Preferences
---
The Report Preferences dialog is a template dialog used to set preferences for specific Report Windows where measurements are tabulated. The picture below shows the Report Preferences dialog for the Centroid Measurements report.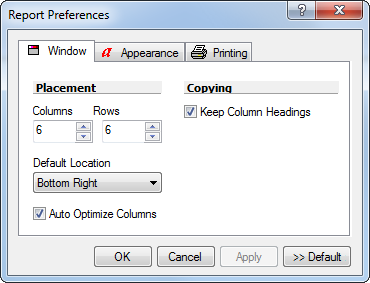 Pages
The Window Preferences page configures the Report Window.
The Appearance Preferences page configures the appearance of the Report Window.
The Printing Preferences page allows some printing options to be set for printing the table in the Report Window.
Save your changes
Set the preferences as desired, then accept the changes by doing the following:
When you are finished, close the dialog.
Related Topics
Report Windows, Report Context Menu, Measuring Images