Mira Pro x64
Mira® Pro x64™ is a native 64-bit Windows application that utilizes the memory and speed advantages of the 64-bit Windows operating system for processing very large images. Mira Pro x64 has no peer for speed, features, and its seamless integration of image display, plotting, processing, measurement, and analysis. While other image processing application software may provide only GUI-based commands or scripting for built-in commands, Mira Pro x64 is unique in integrating all workflow modes: Interactive GUI-based processing, Batch processing of files, Scripted processing, and using Mira's programming extension language to easily and quickly create powerful scripts for nearly any purpose. The 64-bit advantage provided by Mira Pro x64 expands the possibilities into applications impossible with 32-bit software.
Application areas: Astronomy, space sciences, imaging of discrete sources, research and education.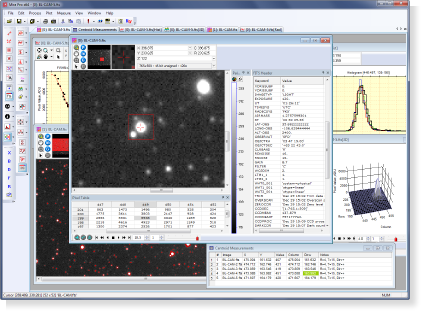 Mira Pro x64 showing images, plots, 3-D. scripting, measurements, and analyses
Mira Pro x64 provides the professional researcher a competitive edge for achieving world-class results, not just by unlocking the power of 64-bit processing but also by implementing many efficiency enhancing features:
Highly integrated, easy to learn and use tools across interactive, batch, and scripted operation;

Work with images or large image sets using the same tools;

Select source images for GUI commands either from data displayed in windows, from files, or for file lists;

Mira integrates one of the fastest and easiest to use, completely extensible, programming extension languages in existence.
Mira Pro x64 extends our class-leading scientific image processing applications to a new level of performance as the most capable image processing application available for the 64-bit Microsoft Windows platform. Some of the applications rendered trivial or even possible by using Mira Pro x64 include
Creating high SNR master images by combining very large image sets.

Searching for similarities between images or for transient phenomena by blinking or animating large image sets.

Cleaning cosmic ray events from image sets using statistical methods.

Registering many large images using interactively selected match-points.

Processing large image sets with "undo" capability enabled (as that makes a duplicate copy of each image).

Doing many instances of such processing in different windows open at the same time.
Mira Pro x64 includes our Pro Script™ programming extension language based on the easy to use, fast, and powerful Lua® programming language. Pro Script allows you to create scripts that work with images and other data for scripting repetitive and custom tasks, developing and testing algorithms, creating simulations, and doing countless other programming chores. Also included are hundreds of fast, powerful functions that are easily implemented in your scripts.
One year of maintenance is included. After one year, discounted annual maintenance is available to provide tech support and keep your software current.
Applications
Mira Pro x64 makes it easy to make research quality photometric measurements of any number of stars with any number of standards on any number of images. Doing ensemble photometry, plotting light curves, importing objects from target lists, and reporting results are a snap!
Use Mira Pro x64 as a powerful, general-use tool for astronomical research, including areas such as variable star research, exo-planet search, milli-mag level photometry, supernova patrol, minor planet detection & rotation studies, and data mining.
Provides powerful tools for astronomical data reduction and visualization.
Mira Pro is also great for analyzing 2-D and 3-D numerical models and simulations.
Excellent for synoptic studies involving measurement or analysis of photometry, coordinates, distances, angles, brightness, and other parameters.
Key Features
Mira's outstanding GUI puts advanced tools where you expect them, freeing you to think about science, not using software.
Extensive and powerful, yet easy to use, scripting language for processing images and other data, including our powerful File Event Scripting capability.
Utilize Mira's superior visualization and analysis tools to get more from image data and numerical simulations.
Realize complex data reduction strategies using simplified, intuitive commands and procedures.
Measure science-grade coordinates, distance, angles, FWHM, statistics, magnitudes, and more, in image units and FITS World Coordinates.
Work with FITS and other standard image formats using 8 to 64-bit numeric data plus 24-bit and 48-bit color.
Hot Topics
Automated extraction of sources & properties
Detecting the 0.003 mag eclipse of an exoplanet
Removing cosmic rays and transients from image sets

Related Products:
Mira MX x64 (advanced tools for microscopy and other applications)
More Information
Recent Research
Requirements
64-bit Windows x64 Operating System in version 10, 8, 7, or a 100% compatible Windows environment on Linux or Mac.
Hard Drive Space: 120 MB, including sample images and scripts.
16 GB RAM.